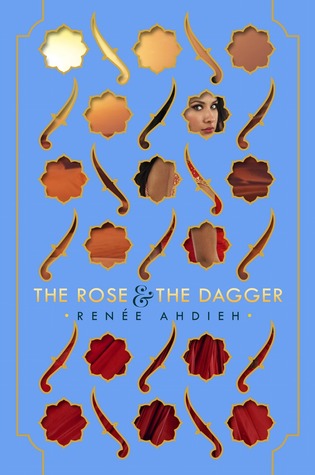 The Rose and the Dagger
Series: The Wrath and the Dawn #2
Genre:

Young Adult/Fantasy/Retelling
Page Length: 416 pages (HC 432)
Format: ARC received from a friend (thank you so much for sending it to me, Cat! <3)
Publisher:
G.P. Putnam's Sons Books for Young Readers
Although I received a free copy of this book, my opinion of it is completely my own.
About
The Rose &
the
Dagger
(via Goodreads):
The much anticipated sequel to the breathtaking The Wrath and the Dawn, lauded by Publishers Weekly as "a potent page-turner of intrigue and romance."
I am surrounded on all sides by a desert. A guest, in a prison of sand and sun. My family is here. And I do not know whom I can trust.

In a land on the brink of war, Shahrzad has been torn from the love of her husband Khalid, the Caliph of Khorasan. She once believed him a monster, but his secrets revealed a man tormented by guilt and a powerful curse—one that might keep them apart forever. Reunited with her family, who have taken refuge with enemies of Khalid, and Tariq, her childhood sweetheart, she should be happy. But Tariq now commands forces set on destroying Khalid's empire. Shahrzad is almost a prisoner caught between loyalties to people she loves. But she refuses to be a pawn and devises a plan.

While her father, Jahandar, continues to play with magical forces he doesn't yet understand, Shahrzad tries to uncover powers that may lie dormant within her. With the help of a tattered old carpet and a tempestuous but sage young man, Shahrzad will attempt to break the curse and reunite with her one true love.
Ahdieh did it again. She captured my heart with her words, tore me apart quite a few times along the way, and managed to stitch me back up again with a brilliant flourish. I was so excited to receive an ARC of the sequel of one of my absolute favorite books, but I was immensely nervous as well. It's always hard reading sequels because there's always that worry that it won't live up to expectations, but I never should have doubted because Ahdieh delivered everything I dreamed of having in the sequel. Although I admit the beginning was a tad slow, the story enthralled with a spectacular display of heart-stopping romance, thrilling fight scenes, and brilliantly-planned schemes.
Ahdieh continued to awe me with her exquisite writing and never failed to make me feel something. Whether it be happiness, gut-wrenching fear, sadness, or something else entirely, I was swept up in a vast ocean of emotions, and I wouldn't have had it any other way. My experience included extensive flailing and making weird guttural throat noises (that were sometimes meant to be squeals and other times meant to be growls). No joke. Let's just say I'm glad I read 3/4 of it while sitting alone in my cave of a room because I'm pretty sure everyone would have thought I was going crazy while reading the book. I just couldn't contain my excitement. THE ROSE AND THE DAGGER WAS JUST THAT GOOD.
FIRST OF ALL, THE CHARACTERS WERE AS GLORIOUS AS EVER. Ahdieh dove even further into the perspectives of some beloved familiar faces from the first book, while throwing a few other new and equally as intriguing characters into the fray. It was great getting to know the characters even better, and it really made the plot stronger. I've probably said this before, but I've never been a huge fan of multi-POV, but Ahdieh always pulls it off beautifully. While I wish a few of my favorite characters got some more page-time, I nonetheless enjoyed all of the characters' unique story arcs and loved seeing it all converge in the end for the final showdown.
I fell in love with each and every character all over again, and Ahdieh even managed to change my mind about a character I'd previously wanted to shove off a cliff *cough* Tariq *cough* In case you were wondering, a lot of my guttural growls were directed at him. Some growls were also because of Jahandar (Sharhzad's father), but enough about that. Not that that's anything new, but I'd prefer not to spoil anything.
Ah, now for Sharhzad and Khalid. Sharhzad, as usual, was a stubborn and sassy protagonist, and I continue to adore her for it. She is one of the strongest characters I have ever met, and she valiantly throws herself in the face of danger and death to protect those she loves and to stand up for her beliefs. Khalid continued to struggle with his inner demons, but fought hard and had so many layers to him that were further peeled away.
Ever since book one, I absolutely ADORED Khalid and Shazi, both as individuals and a couple. Book two definitely does not disappoint in regard to either matter. Their relationship continued to blossom, and although their interactions were much more limited due to the onslaught of obstacles they had to overcome, when they were together sparks flew. It was so passionate and swoony and romantic and *tears up a little* IT WAS JUST SO BEAUTIFUL AND MAGICAL AND PERFECT <3
Speaking of magical, there was even more magic in The Rose and the Dagger than in The Wrath and the Dawn! Lots of flying fireballs, winged serpents, and all that good stuff. It would have been interesting to see even more of the magic explored in the book, but Ahdieh gave me just the right dose of magic that I was left intrigued without being confused or unsatisfied.
Overall, The Rose and the Dagger was a stunning conclusion to Shazi and Khalid's story. The writing was vibrant and rich, and the characters never ceased to amaze and surprise me. I loved this book with all my heart, and hope others will fall in love with this gorgeous sequel to The Wrath and the Dawn as I have.
Rating: 4 stars