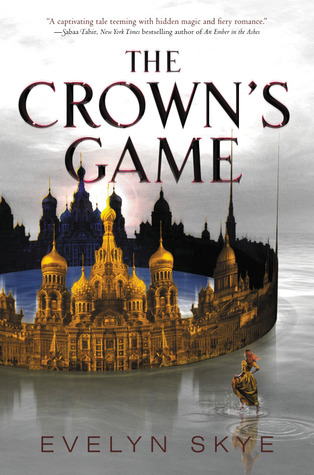 The Crown's Game by Evelyn Skye
Series: The Crown's Game #1
Genre: Young Adult/Historical/Fantasy
Page Length: 416 pages
Format: ARC (won in a giveaway! Thank you, Brittany!)
Publication Date: May 17, 2016
Publisher: Balzer + Bray
Although I received a free copy of this book, my opinion of it is completely my own.
About The Crown's Game (via Goodreads):
Vika Andreyeva can summon the snow and turn ash into gold. Nikolai Karimov can see through walls and conjure bridges out of thin air. They are enchanters—the only two in Russia—and with the Ottoman Empire and the Kazakhs threatening, the Tsar needs a powerful enchanter by his side.

And so he initiates the Crown's Game, an ancient duel of magical skill—the greatest test an enchanter will ever know. The victor becomes the Imperial Enchanter and the Tsar's most respected adviser. The defeated is sentenced to death.

Raised on tiny Ovchinin Island her whole life, Vika is eager for the chance to show off her talent in the grand capital of Saint Petersburg. But can she kill another enchanter—even when his magic calls to her like nothing else ever has?

For Nikolai, an orphan, the Crown's Game is the chance of a lifetime. But his deadly opponent is a force to be reckoned with—beautiful, whip smart, imaginative—and he can't stop thinking about her.

And when Pasha, Nikolai's best friend and heir to the throne, also starts to fall for the mysterious enchantress, Nikolai must defeat the girl they both love . . . or be killed himself.

As long-buried secrets emerge, threatening the future of the empire, it becomes dangerously clear . . . the Crown's Game is not one to lose.
The Crown's Game was, as you can probably guess based on the synopsis alone, magical. But it wasn't magical only in the sense that there were enchanters and undead and life-sized music boxes and all that jazz (although I absolutely adored those things), but the WRITING. My word, the writing was sublime.

Although I've never been to Russia, she painted a gorgeous picture of it for me. I was instantly transported into the fantastical Russia of her design, and fell head-over-heels in love. Skye also utilized her many characters' voices beautifully. I normally am not a fan of third-person POVs, especially when it's multi-POV, but her transitions between the characters and chapters was effortless. I loved seeing the world through different characters' eyes, although I wish I had the opportunity to see through each set of eyes even more. There was so much left unsaid by the end, and I am excited to find out more.
Before I get too excited though, I want to get out of the way a couple things I was minorly disappointed in. First, let's talk about The Game. I absolutely adored the concept of the Game and all of the intricate moves Vika and Nikolai made, but I was expecting there to be... I don't know. More action, I guess. The magic was so fascinating and I loved reading about Vika and Nikolai's fantastical feats, but I wanted MORE. They definitely impressed and enchanted me, but I was expecting the plot to move just a tad faster.
It also took me a while to warm up to the characters. I didn't dislike them, but for several chapters, I didn't really care all that much about what happened to them. Soon after that point, however, I quickly became super protective of the lovelies and didn't want a single one of them to get hurt or be killed. Which is why when the Game was over, I felt completely gutted. I was a sobbing mess at the end and felt betrayed. How could Evelyn make me gradually fall in love with the characters, only to wrench them away from me?

Although it took me some time to love the characters, I loved their relationships from the start. At least the platonic and familial ones, anyway. One of my favorites was definitely Nikolai and Pasha's bromance. They were such friendship goals and are definitely my ultimate brOTP. They complemented each other so well, and it was always so fun seeing the crazy adventures they went on together. There was also a bittersweetness about it, but I don't want to go into that right now because 1) I don't want to spoil anything, and 2) my feels still can't handle it.

As for other relationships, another favorite (as weird as it may sound) was the one between the Tsar and Tsarina. I loved seeing them together because I could finally see the Tsar's humanity and love for his wife, rather than the hostile and cold leader he appeared to be.

The relationship between Vika, Nikolai, and Pasha was definitely strained. I respected Vika for not falling head over heels in love with both of them, as many heroines seem to do in books these days, and loved that it did not play a prominent role in the story, although it did seem to always lurk in the shadows of the plot. I am definitely more a Nikolai girl myself, but I couldn't help but love Pasha's passion, excitement, and curiosity about everything in life. Despite the fact that I wanted Vika and Nikolai to be together, I still wanted Pasha to find immense happiness for himself, and not lose the light he has burning from within him.
Evelyn Skye's debut novel was magnificent. Her writing was absolutely stunning and her characters snuck their way straight into my heart, and I NEED TO KNOW WHAT HAPPENS NEXT. LIKE, RIGHT NOW. I TRIED TO CONCEAL MY FEELS UNTIL NOW, BUT I CANNOT STAND THE WAIT. THERE'S SO MUCH MORE TO DISCOVER AND FALL IN LOVE WITH (AND POSSIBLY BE HEARTBROKEN ABOUT).