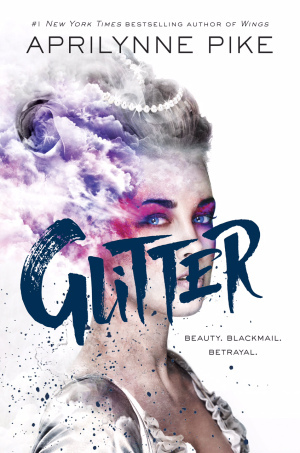 Glitter by Aprilynne Pike
Genre: Young Adult/Fantasy/Historical Fiction
Release Date: October 25, 2016
About Glitter (via Goodreads):
From #1 New York Times bestselling author Aprilynne Pike comes a truly original new novel—Breaking Bad meets Marie Antoinette in a near-future world where the residents of Versailles live like it's the eighteenth century and an almost-queen turns to drug dealing to save her own life.

Outside the palace of Versailles, it's modern day. Inside, the people dress, eat, and act like it's the eighteenth century—with the added bonus of technology to make court life lavish, privileged, and frivolous. The palace has every indulgence, but for one pretty young thing, it's about to become a very beautiful prison.

When Danica witnesses an act of murder by the young king, her mother makes a cruel power play . . . blackmailing the king into making Dani his queen. When she turns eighteen, Dani will marry the most ruthless and dangerous man of the court. She has six months to escape her terrifying destiny. Six months to raise enough money to disappear into the real world beyond the palace gates.
Her ticket out? Glitter. A drug so powerful that a tiny pinch mixed into a pot of rouge or lip gloss can make the wearer hopelessly addicted. Addicted to a drug Dani can sell for more money than she ever dreamed.
But in Versailles, secrets are impossible to keep. And the most dangerous secret—falling for a drug dealer outside the palace walls—is one risk she has to take.
EXCERPT
"You're punctual, that's appreciated," I say in French. The words come out barely above a whisper. My heart is racing in my chest and I'm complimenting his punctuality?
"I meant what I wrote in my note. I'm prepared to discuss an opportunity that I think will be immeasurably profitable for the both of us."
He steeples his fingers and leans forward as though listening intently. A move calculated, I'm certain, to make me feel at ease. But it appears forced and instinct raises the hairs on the back of my neck.
I fight the urge to lean forward myself—to close the distance between us. To feel his breath on my face and—what is it that draws me to this … criminal? For of course that's what he is—a dangerous criminal. I pause at that thought. Is it the danger? That sort of foolishness certainly occurs often enough in the romantic novels I've read. Is that what's happening here? But no. If I were attracted to dangerous fellows I'd be throwing myself at the feet of the King. Is it because I have, on some level, considered becoming a criminal myself?
I study him closely and a prickling sense of wrongness wriggles through the haze of attraction. He's young, yes, but I'm hardly one to question youth. His dress is a touch sloppy—or at the very least not personally tailored—but what I've seen of Paris has suggested to me that this is the norm rather than the exception. Still, there's something …
"You're not who I asked to see," I say, forcing my voice to flow out utterly calm; a sea of glass.
A slight widening of the eyes is his only response.
"I must speak with the person in charge of this operation. That's clearly not you." I give a graceful gesture at his person with a swirl of my wrist that takes some of the sting of the insult away. I hope. Though a large part of me is simply glad he's not who he was pretending to be: A drug lord.
"Did you expect a court dandy in fancy clothes, then?" he says. In French for certain—but not with a native accent.
I take a moment to inhale his voice, which is deeper than I'd anticipated, and with a hint of gravel. "Your clothes tell me nothing, sir; it's in your eyes."
That makes him angry. But it's true. His eyes are fire and rebellion and the head of this sort of operation would have need of neither. Running a successful business, even an illicit one, fills men's eyes with confidence, satisfaction. This person in front of me longs for more in life.
ABOUT THE AUTHOR
Critically acclaimed, #1 New York Times best-selling author Aprilynne Pike has been spinning tales since she was a child with a hyper-active imagination. At the age of twenty she received her BA in Creative Writing from Lewis-Clark State College in Lewiston, Idaho. When not writing, Aprilynne can usually be found out running; she also enjoys singing, acting, reading, and working with pregnant moms as a childbirth educator and doula. Aprilynne lives in Arizona with her husband and four kids; she is enjoying the sunshine.