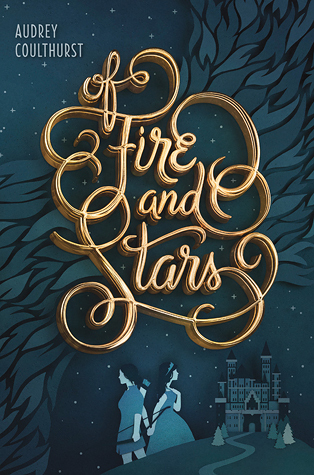 Of Fire and Stars by Audrey Coulthurst
Genre: Young Adult/Fantasy/LGBTQIA+
Page Length: 400 pages
Format: ARC (won in a giveaway!)
Publication Date: November 22, 2016
Publisher: Balzer + Bray
I'd like to thank Audrey Coulthurst for hosting the giveaway. Although she provided me with a copy of her book, it in no way whatsoever affected my thoughts/opinions about this book. These opinions are completely my own.
About Of Fire and Stars (via Goodreads):
Betrothed since childhood to the prince of Mynaria, Princess Dennaleia has always known what her future holds. Her marriage will seal the alliance between Mynaria and her homeland, protecting her people from other hostile lands. But Denna has a secret. She possesses an Affinity for fire—a dangerous gift for the future queen of a kingdom where magic is forbidden.

Now, Denna must learn the ways of her new home while trying to hide her growing magic. To make matters worse, she must learn to ride Mynaria's formidable warhorses before her coronation—and her teacher is the person who intimidates her most, the prickly and unconventional Princess Amaranthine (called Mare), sister of her betrothed.

When a shocking assassination leaves the kingdom reeling, Mare and Denna reluctantly join forces to search for the culprit. As the two work together, each discovers there's more to the other than she thought. Mare is surprised by Denna's intelligence and bravery, while Denna is drawn to Mare's independent streak. Soon their friendship is threatening to blossom into something more.

But with dangerous conflict brewing that makes the alliance more important than ever, acting on their feelings could be deadly. Forced to choose between their duty and their hearts, Mare and Denna must find a way to save their kingdoms—and each other.
Of Fire and Stars was an enchanting read. It took me a few chapters to get into the book, but Coulthurst's beautiful writing thereafter quickly had me hooked.
While the story was not the most unique, I still greatly enjoyed Coulthurst's debut. Certain plot devices were a bit stale, such as killing off characters (in my opinion unnecessarily) to heighten the tension, but there was almost always something going on and I was never bored by the story.
I thought the protagonists, Dennaleia and Mare, were written extremely well. They both had their own unique personalities and I think their character arcs matched their upbringing and overall character really well. However, secondary characters are also important to a story, and I thought they were mediocre in Of Fire and Stars. They just weren't all that special. A few of them were distinct, but I thought that a lot of them could have been interchangeable with a secondary/minor character from another YA fantasy and I wouldn't have known the difference.
Denna and Mare's romance started off kind of as a mutual hatred toward each other, which slowly developed into friendship, and eventually blossomed into something more. Across any romance, I love a good slow burn. It takes time to develop relationships with people in real life, and books need to reflect that. The only thing that bothered me about Denna and Mare's relationship (which might actually be a big deal) was how quickly they got physical after confessing their love to each other. Like I know they were excited/exhilarated/whatever, but it just seemed like they moved too fast into the intimate stuff. So while I appreciated that it wasn't instalove, the minute they realized they were in love (and their love was reciprocated), their hands were all over each other. So in a way they still moved way too fast for my comfort while also going slow (if that even makes any sense at all). Also, I know that it was a forbidden romance, but it seemed too easy for them to overcome the obstacles that separated them from each other. Like, I'm pretty sure guards would notice if a figure was climbing up a rope into the princess's rooms at night. Just saying. But enough about the romance. Let's talk about something else now.
I really enjoyed the concept of the world and magic, but I really would have liked to know more, especially in regard to the religious aspect. I still have so many questions. Why do some believe that the magic is a gift from the gods, while others shun it? Like honestly, what made Mynaria so opposed to magic? Why do/did only some kingdoms have magic surging through its people's veins and others don't? How does the bloodline for magic work?
Despite all my complaining, I did like this book immensely. It tells a wonderful story about overcoming obstacles and finding yourself, and although I did voice some complaints, it was a story that left me captivated from start to finish.
My rating: 3.25 stars