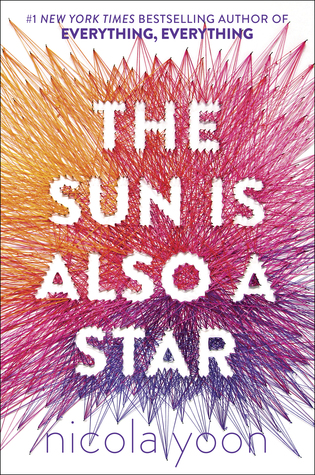 The Sun is Also a Star by Nicola Yoon
Genre: Young Adult/Contemporary
Page Length: 384 pages
Format:
ARC won at B-Fest (Barnes & Noble's Teen Book Festival)
Publication Date: November 1, 2016
Publisher: Delacorte Press
About The Sun is Also a Star (via Goodreads):
Natasha: I'm a girl who believes in science and facts. Not fate. Not destiny. Or dreams that will never come true. I'm definitely not the kind of girl who meets a cute boy on a crowded New York City street and falls in love with him. Not when my family is twelve hours away from being deported to Jamaica. Falling in love with him won't be my story.
Daniel: I've always been the good son, the good student, living up to my parents' high expectations. Never the poet. Or the dreamer. But when I see her, I forget about all that. Something about Natasha makes me think that fate has something much more extraordinary in store—for both of us.
The Universe: Every moment in our lives has brought us to this single moment. A million futures lie before us. Which one will come true?
The Sun is Also a Star by Nicola Yoon was an incredible read. The characters felt so palpable and relevant, and I really connected Natasha and Daniel, on both the personal and more global level (especially after the events of the last few months). Although I do not believe in love at first sight, Yoon made me want to believe in it.
The series of chance encounters leading to Natasha and Daniel's love was a bit improbable, but Yoon's overall execution of the story was superb. She plunged deep into the character's minds and hearts and drew out a wealth of thoughts and feelings throughout the story, regarding not only the romance, but also family love and second chances. I fell in love with the characters and loved seeing them grow and develop into the people they wanted to be, rather than who they were expected to be.
The family dynamics and relationships in this book were definitely strained, and it was a bit painful to read about them, but I appreciated Yoon's honesty in conveying the relationships between parents, their children, and siblings, as well as expressing the mindset of many people regarding inter-racial relationships even today.
All in all, The Sun is Also a Star was an earnest and beautifully written story

about love, loss, and serendipity. It was about taking chances, not letting hate win, and learning to empathize with those we don't know as well as those we love with all our hearts.
My Rating: 4 stars