Hey guys! I am super excited to invite my good friend Izzy to my blog today! I've been friends with Izzy for around 6 years now, and she's always been the one I turned to IRL to fangirl with about everything, especially books. I've been trying to convince her to join blogging, and although I've failed to do so thus far, she was kind enough to offer to write a review for an ARC she received when she participated in BiblioBattle
Kinokuniya
in NYC. Anyway, I am so happy that Izzy was willing to take time out of her busy schedule to join us on the blog for a bit to share her thoughts on
The Amateurs
by Sara Shepard!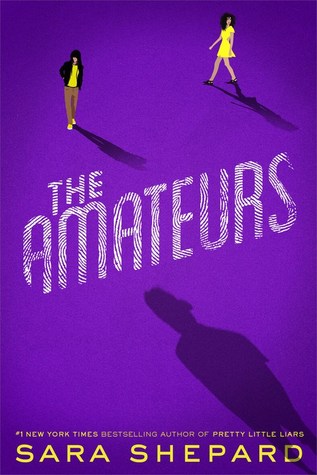 The Amateurs by Sara Shepard
Series: The Amateurs #1
Genre: Young Adult/Mystery
Page Length: 320 pages
Source: ARC won at BiblioBattle

Kinokuniya


Publication Date: November 1, 2016
Publisher: Disney-Hyperion
About The Amateurs (via Goodreads):
As soon as Seneca Frazier sees the post on the Case Not Closed website about Helena Kelly, she's hooked. Helena's high-profile disappearance five years earlier is the one that originally got Seneca addicted to true crime. It's the reason she's a member of the site in the first place.
So when Maddy Wright, her best friend from the CNC site, invites Seneca to spend spring break in Connecticut looking into the cold case, she immediately packs her bag. But the moment she steps off the train in trendy, glamorous Dexby, things begin to go wrong. Maddy is nothing like she expected, and Helena's sister, Aerin Kelly, seems completely hostile and totally uninterested in helping with their murder investigation.
But when Brett, another super user from the site, joins Seneca and Maddy in Dexby, Aerin starts to come around. The police must have missed something, and someone in Dexby definitely has information they've been keeping quiet.
As Seneca, Brett, Maddy, and Aerin begin to unravel dark secrets and shocking betrayals about the people closest to them, they seem to be on the murderer's trail at last. But somewhere nearby the killer is watching . . . ready to do whatever it takes to make sure the truth stays buried.
Now, most of what I know of Sara Shepard revolves around three words: Pretty. Little. Liars. Against my parents' wishes I'd stealthily watch the TV show to admire Drew Van Acker's face (Before I stopped watching PLL I was totally Team #Jaria). I had read the first two books, but I never cared to venture through the rest of the superficial, chick-litty, and seemingly neverending series.
When I won a copy of
The Amateurs
I was only expecting more of the same from Sara Shepard - a mindless and breezy read. What I did
not
expect was to end up writing this review saying that my new favorite book is written by the author of
Pretty Little Liars.
The Amateurs
transcends Shepard's It clique-centric voice and writing style to evolve into an elegant, sleek thriller and an instant classic Sara Shepard novel. I could still feel her authentic writing self through all of the words, which brought back middle school nostalgia and felt like a snuggly blanket when the feels hurt. All the characters, even if they appeared for a glimmer of a moment, were fleshed out onto a relatable scale that only made the tension, secrets, suspense, and emotions escalate to nail-biting heights that had seemed forced before, colliding with her writing and story to make for a truly fantastic read.
For once, Sara Shepard is writing about outsiders in her novels - and she should do it more often, because everyone - even the villains - in the story were compelling. Her third-person writing conveyed that same aspect, which not only amped up the secrets but truly gave me the feeling of being in another person's shoes. I was able to connect to characters that IRL would be the polar opposite of me, helping me to develop a deeper connection and bond to the story and plot.
Aerin, however, is the crowning jewel out of all of Sara Shepard's characters. And not just in this book - I'm talking about
all
her characters. Ever. Aerin's feelings are raw and honest, making her character arc impactful and her growth inspiring. Through the lens of others Aerin's personality matures, which only made her feel more organic and real to me. Seneca is also as well-crafted as her personality in the novel, although (without spoilers) her character development did suffer from one too many of Shepard's classic twists and turns to keep up with and sometimes seemed like overkill.
Also, Maddy is bae. I don't need to say anything more about that.
This is the only accurate representation of Maddy Wright that I will accept.
I had some minor problems with some of the writing in certain scenes, which at times seemed confused and muddled between all the different points of view, and her style has always relied on the generic twists that just seemed superfluous towards the tail end of the novel. But the ending made my jaw
drop.
And overall I just loved this book.
The Amateurs
was an incredible surprise that no matter how many times I'll expect it, I will never see it coming.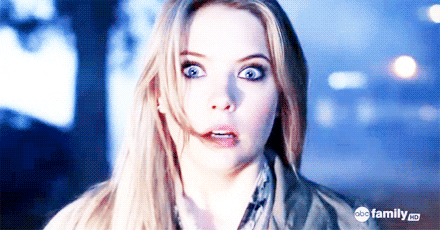 This was pretty much my reaction at the end of the book. Although I feel bad for using the GIF of this moment in PLL...
my rating: 4.5 stars