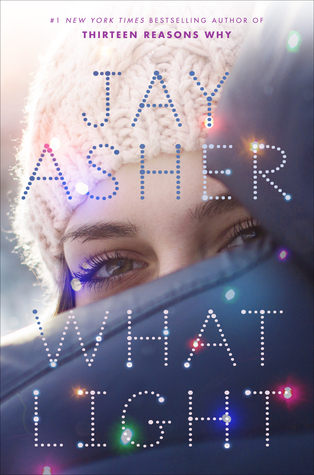 What Light by Jay Asher
Genre: Young Adult/Contemporary
Page Length: 251 pages
Format: ARC won at BookItCon
Publication Date: October 18, 2016
Publisher: Razorbill
About What Light (via Goodreads):
From Jay Asher, #1
New York Times
bestselling author of
Thirteen Reasons Why
, comes a romance that will break your heart, but soon have you believing again. . . .
Sierra's family runs a Christmas tree farm in Oregon—it's a bucolic setting for a girl to grow up in, except that every year, they pack up and move to California to set up their Christmas tree lot for the season. So Sierra lives two lives: her life in Oregon and her life at Christmas. And leaving one always means missing the other.
Until this particular Christmas, when Sierra meets Caleb, and one life eclipses the other.
By reputation, Caleb is not your perfect guy: years ago, he made an enormous mistake and has been paying for it ever since. But Sierra sees beyond Caleb's past and becomes determined to help him find forgiveness and, maybe, redemption. As disapproval, misconceptions, and suspicions swirl around them, Caleb and Sierra discover the one thing that transcends all else: true love.
What Light
is a love story that's moving and life-affirming and completely unforgettable.
What Light
by Jay Asher is a cute and festive read for the Christmas season. While I was a bit cold-hearted and grinch-like when I first started reading the book, my heart slowly thawed and the story made me feel warm and fuzzy inside. While the romance was a bit rushed, I didn't think it was overly unrealistic (like instalove often is) and still found Sierra and Caleb's romance charming.
However, as characters go, I didn't find them all that engaging. They were far from bad by any means, but I never fully connected with them. Furthermore, although there was some character development, I thought there could have been a bit more growth based on the events that happened. On that note, the conflicts within the plot seemed to resolve a bit too quickly and too easily for my liking. I understand under the characters' circumstances, they did not have much time to resolve issues, but it still seemed a bit ridiculous.
The writing style was fine, but nothing extraordinary. Although I did not notice as much when I became more engrossed in the story, the sentence structures were very similar throughout and had minimal variation in length, making the story a bit hard to read when I first started reading it.
Overall, What Light was a fun and entertaining read. It left me laughing out loud on several occasions, and made me smile, flail, and fangirl, helping me get more in the holiday spirit.
My rating: 3 stars
Dreamology by Lucy Keating
Genre: Young Adult/Contemporary
Page Length: 336 pages
Format: Hardcover
Publisher: HarperTeen
About Dreamology (via Goodreads):
Vibrantly offbeat and utterly original, Lucy Keating's debut novel combines the unconventional romance of
Eternal Sunshine of the Spotless Mind
with the sweetness and heart of Jenny Han.
For as long as Alice can remember, she has dreamed of Max. Together, they have traveled the world and fallen deliriously, hopelessly in love. Max is the boy of her dreams—and only her dreams. Because he doesn't exist.
But when Alice walks into class on her first day at a new school, there he is. Real Max is nothing like Dream Max. He's stubborn and complicated. And he has a whole life Alice isn't a part of. Getting to know each other in reality isn't as perfect as Alice always hoped.
Alarmingly, when their dreams start to bleed into their waking hours, the pair realize that they might have to put an end to a lifetime of dreaming about each other. But when you fall in love in your dreams, can reality ever be enough?
Dreamology by Lucy Keating is one of the most adorable books I have ever read. Filled with whimsy at every turn, I completely devoured this novel. The concept of this story was so unique and fun, and the story was overall fast-paced and an enjoyable read.
I also appreciate that although it was a lighter novel, it still dealt with some difficult situations and there was definitely character development involved. I was able to connect with the characters and fall in love with them, both in their reality and their dreams.
Dreamology was a truly delightful interlude after a long period of stress and craziness in my life, and I'd highly recommend it to anyone looking for a book that will put a smile on your face.