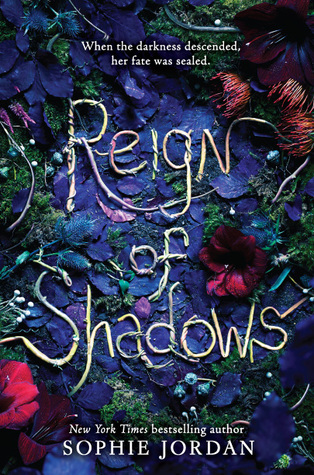 Reign of Shadows
by Sophie Jordan
Genre: Young Adult/Fantasy/Fairytale Retelling
Publication Date: February 9, 2016
Source: paperback ARC received at New York Comic Con
Although I received a free copy of this book, my opinion of it is completely my own.
About Reign of Shadows (via Goodreads):

Seventeen years ago, an eclipse cloaked the kingdom of Relhok in perpetual darkness. In the chaos, an evil chancellor murdered the king and queen and seized their throne. Luna, Relhok's lost princess, has been hiding in a tower ever since. Luna's survival depends on the world believing she is dead.

But that doesn't stop Luna from wanting more. When she meets Fowler, a mysterious archer braving the woods outside her tower, Luna is drawn to him despite the risk. When the tower is attacked, Luna and Fowler escape together. But this world of darkness is more treacherous than Luna ever realized.

With every threat stacked against them, Luna and Fowler find solace in each other. But with secrets still unspoken between them, falling in love might be their most dangerous journey yet.

With lush writing and a star–crossed romance, Reign of Shadows is Sophie Jordan at her best.
Reign of Shadows was a fantastic read. Although the plot starts off a bit slow, it quickly accelerates and I found myself turning the pages faster and faster wanting to know more. The writing was fluid and painted a pretty good image of the world without going overboard (no major infodumps here!) Jordan did a wonderful job weaving Luna and Fowler's story, and it took me a long time to write this review because I honestly have no words (especially after THAT ENDING).
The world-building overall was pretty good, but I think it could have been fleshed out a bit more. There were parts where I was a bit confused, and I guess that makes sense since Luna had never truly been Outside before, but I still would have liked a bit more explaining, especially in terms of the eclipse. I know Luna is blind so it does not really affect her that much (except for the dwellers) but how dark is it really? Is it just like a normal eclipse except it lasts "forever" instead of for a short period of time? Also, I know the characters were young when it happened, but I'm confused about how the eclipse started and why it lasts so long? Jordan hinted that a prolonged eclipse happened in the past, but I'm still a bit confused about how it works.
I absolutely LOVED the characters. Every single one of them (except maybe the ones trying to kill them, but you know). Luna and Fowler go through immense change throughout the story (especially Fowler) and it was amazing to see them affect each other so greatly and see how their outlooks on life changed. Luna and Fowler complemented each other so well and even though they had some bad qualities, deep down they were good people and I had to respect them for that.
THE ROMANCE, YOU GUYS. It started off as sort of a love/hate relationship but they slowly warmed up to each other and IT WAS PERFECTION. There was some initial unwanted attraction toward the beginning, but once they realized/started to realize their feelings for each other, just major WOW. Their romance was so adorable and lovable and ugh I LOVE THEM SO MUCH.
Since the ARC was less than 300 pages (and the finished form is only slightly over 300 pages), I think there is plenty of room to add a bit more info here and there, regarding the world or various other aspects that felt a bit underdeveloped. I also would have liked more romance because ROMANCE and that ending kind of killed me, sooooooooo… All in all, although the world-building could have been a bit stronger, the amazing characters and romance made the story absolutely wonderful to read. I highly highly recommend this new take on
Rapunzel,
especially if you are looking for a bit of a darker undertone to a classic fairytale that still has elements of a beautiful romance.