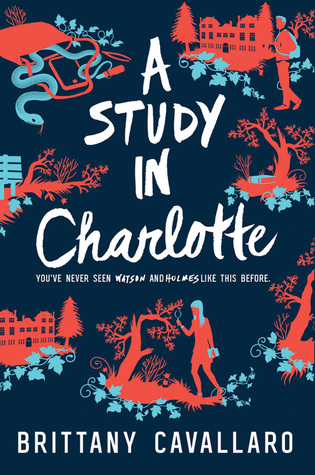 A Study in Charlotte by Brittany Cavallaro
Series: Charlotte Holmes #1
Genre: Young Adult/Contemporary/Mystery/Retelling
Page Length: 321 pages (hardcover)
Source: eBook won in a giveaway - thank you so much, Tamara!
Publisher: HarperTeen
About A Study in Charlotte (via Goodreads):
The last thing Jamie Watson wants is a rugby scholarship to Sherringford, a Connecticut prep school just an hour away from his estranged father. But that's not the only complication: Sherringford is also home to Charlotte Holmes, the famous detective's great-great-great-granddaughter, who has inherited not only Sherlock's genius but also his volatile temperament. From everything Jamie has heard about Charlotte, it seems safer to admire her from afar.
From the moment they meet, there's a tense energy between them, and they seem more destined to be rivals than anything else. But when a Sherringford student dies under suspicious circumstances, ripped straight from the most terrifying of the Sherlock Holmes stories, Jamie can no longer afford to keep his distance. Jamie and Charlotte are being framed for murder, and only Charlotte can clear their names. But danger is mounting and nowhere is safe—and the only people they can trust are each other.
A Study in Charlotte
is the first in a trilogy.
REVIEW
A Study in Charlotte
was definitely one of the fastest-paced and most entertaining books I've read all year.
Although I can't say I'm familiar with most of the Sherlock Holmes stories,
I am happy to say that Cavallaro did a brilliant job recapping the original Holmes and Watson's adventures, family trees, and overall histories. Hopefully I'll have the chance to read the original Sherlock Holmes stories in the near future. Anyway, enough about that.
While the plot moved rapidly, with the stakes raising higher and higher each chapter, I still managed to get a good understanding of the characters and the world. Often, I find that plots that move as quickly as A Study in Charlotte lack proper character development and other problems, but I didn't notice that at all with this novel. I understood the characters and could really sympathize with them throughout. In addition, I loved that Charlotte and Jamie shared traits similar to their predecessors while also having their own unique flair.

Charlotte and Jamie are probably two of my favorite characters ever. They were quirky (obviously), and they clashed while also working together so well. They were amazing partners and friends, while also being possibly one of my favorite couples. Not many books have the same pair being my favorite friendship and OTP, but Holmes and Watson somehow worked out that way.


If I have one complaint about A Study in Charlotte, it's that the mystery was solved almost too quickly. I don't read many mysteries, but I was hoping there would be a bit more of a twist in the end. While I did enjoy the many other twists Cavallaro threw in and understand that the original Holmes and Watson do tend to know things too quickly for their own good (based on the little knowledge I do have of their work), I still wish the mystery could have been prolonged for a bit longer.
A Study in Charlotte
promised an
exhilarating
story with murder, mystery, friendship, and a dash of
romance
, and Cavallaro delivered beautifully. I absolutely loved this new generation of Watsons and Holmeses, and I can't wait to see what Brittany Cavallaro has in store for them next in The Last of August.
My Rating: 4 stars
PLAYLIST
Hey guys! So I was kind of idiotic and didn't write my review for
A Study in Charlotte
right away, and even if I had written it sooner, the review couldn't have been very detailed without spoiling the mystery. That being said, I thought it would be fun to do something else to supplement the review, so I chose to share five songs off my
A Study in Charlotte
playlist! I hope you enjoy!
"Next time around, think about what you say
before you run your mouth."
1.
Body Bag
by Hit the Lights - Jamie definitely has some anger issues... and he may have gotten into a fight with someone who ends up dying. I won't say any more because I don't want to spoil the book, but I think this song is kind of perfect for
A Study in Charlotte
. (Also, if you were wondering, I randomly stumbled across this song while listening to iTunes Radio.)
"So we can take the world back from the heart-attacked
One maniac at a time we will take it back
"
2.
The Phoenix
by Fall Out Boy - my explanation for this one is a bit less straight-forward, but bear with me. There is a dance scene in the story that kind of goes awry, and there are some pretty crazy people in the book that Charlotte and Jamie have to stop in order to save everyone (and themselves). And of course they're racing against the clock, so these lyrics all apply.
"When the world falls into pieces
You'll be the one voice of reason
When I can't face all my demons
You are the one I believe in"
3.
Queen of Hearts
by We the Kings - there's honestly only a few lines from this song that I think apply to
A Study in Charlotte,
but I wanted to include it anyway because I think those few lines really represents Charlotte and Jamie's relationship.
"Lights flash and we'll run for the fences
Let them say what they want, we won't hear it
Loose lips sink ships all the damn time
4.
I Know Places
by Taylor Swift - as much as I love Charlotte and Jamie together, I didn't choose this song because their relationship was in jeopardy. Obviously since it's a murder mystery, a lot more was at stake. Their reputations, their lives, etc. That being said, I Know Places seems like a perfect track for
A Study in Charlotte
.
"We got a friendship, no one can contest it
And not to mention, I respect you with my all"
5.
Don't Wait
by Mapei - I think the song overall is a good representation of Charlotte and Jamie's relationship. It's kind of hard to explain it in words, but basically, Jamie relies a lot on Charlotte for support and companionship, and would probably be alone (or at least lonely) without her in his life... There's more to it than that (which you'll understand if you read the book), but ultimately, what's a Watson without his Holmes?