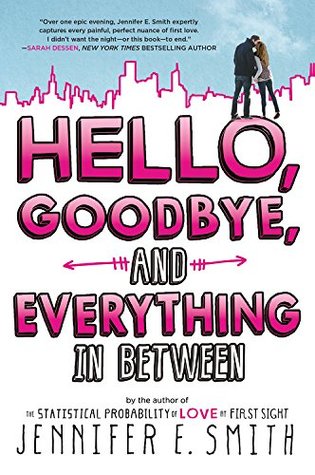 Hello, Goodbye, and Everything in Between by Jennifer E. Smith
Genre: Young Adult/Contemporary
Page Length: 272 pages (paperback)
Format: eBook
Publisher: Poppy
About
Hello, Goodbye, and
Everything in Between
(via Goodreads):
On the night before they leave for college, Clare and Aidan only have one thing left to do: figure out whether they should stay together or break up. Over the course of twelve hours, they retrace the steps of their relationship, trying to find something in their past that might help them decide what their future should be. The night leads them to family and friends, familiar landmarks and unexpected places, hard truths and surprising revelations. But as the clock winds down and morning approaches, so does their inevitable goodbye. The question is, will it be goodbye for now or goodbye forever?
Charming, bittersweet, and full of wisdom and heart, this irresistible novel from Jennifer E. Smith, author of
The Statistical Probability of Love at First Sight
, explores the difficult choices that arise when life and love lead in different directions.
Honestly, this book completely K.O.'d me (in the best way possible). I was not expecting
Hello, Goodbye, and Everything in Between
to hit me so hard in the feels, but it managed to do just that, sneaking up on me like a ninja and throwing me completely off guard.
Going into the book, I thought that it was going to be just a quick, "fluffy" book, if you will. But I was so wrong. It was far from a tragic story, but
Hello, Goodbye, and Everything in Between
was so bittersweet and relatable that it was hard not to feel emotions while reading. I don't know if most people would be so emotional while reading it, but for legitimately half the book I was crying (for one reason or another). There were not only plenty of scenes where I was sad for the characters and the state of their relationships with each other, but also a lot of the emotions were caused by a lot of feelings of nostalgia. It was really nice to feel so connected to the characters and story while reading since I haven't felt that sort of connection to a book in a while.
Jennifer E. Smith managed to make me fall in love with a cast of characters in a single night, which is a tremendous feat. The character development was so well done despite the short window of time in which the novel takes place, and I seriously have to applaud Smith for her amazing work developing Clare and Aidan.
I wasn't sure what to expect from
Hello, Goodbye, and Everything in Between,
despite how much I loved the Jennifer E. Smith books I'd read in the past (especially since I haven't read her other novels in many years). However, I absolutely adored Jennifer E. Smith's newest book. In fact,
Hello, Goodbye, and Everything in Between
is my favorite one of all.
My rating: 4.5 stars