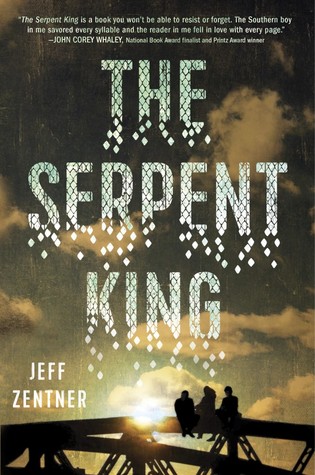 The Serpent King by Jeff Zentner
Genre: Young Adult/Contemporary
Format: eBook
Publisher: Crown Books for Young Readers
About The Serpent King (via Goodreads):
Dill has had to wrestle with vipers his whole life—at home, as the only son of a Pentecostal minister who urges him to handle poisonous rattlesnakes, and at school, where he faces down bullies who target him for his father's extreme faith and very public fall from grace.

He and his fellow outcast friends must try to make it through their senior year of high school without letting the small-town culture destroy their creative spirits and sense of self. Graduation will lead to new beginnings for Lydia, whose edgy fashion blog is her ticket out of their rural Tennessee town. And Travis is content where he is thanks to his obsession with an epic book series and the fangirl turning his reality into real-life fantasy.

Their diverging paths could mean the end of their friendship. But not before Dill confronts his dark legacy to attempt to find a way into the light of a future worth living.
I honestly wasn't expecting to like
The Serpent King
, despite all the rave reviews, but it quickly grew to become one of the most wonderful and rawest books I've ever read. This book slithered into my heart (pun intended) and shattered my soul a million times. It hurt to read, and I was a sobbing mess for probably half the book (pretty sure I used up a whole tissue box sobbing over this book), but it was so so so worth it.
The characters were INCREDIBLE. All of them were so unique, but also so ordinary and relatable (even though that probably sounds really contradictory). As the plot thickened and things grew worse and worse for them, my heart constricted and twisted more than it ever had before. Because I connected to them on such a deep level without even realizing it.
The plot was like nothing I've ever read, and Zentner's storytelling was captivating, painful, and beautiful all at once. Although it took several chapters to get into the story, once I did I was hooked for good. I could not stop reading, and stayed up extremely late to finish it.
It's really hard to capture the brilliance of The Serpent King. It's also really hard to explain the plot without going into the spoiler zone, but the story was extremely well done and the characters really went through a beautiful metamorphosis that cannot be ignored. Even if you're uncertain about The Serpent King, I really suggest giving it a try. It blew me away in ways I couldn't have fathomed.
My Rating: 4.5 stars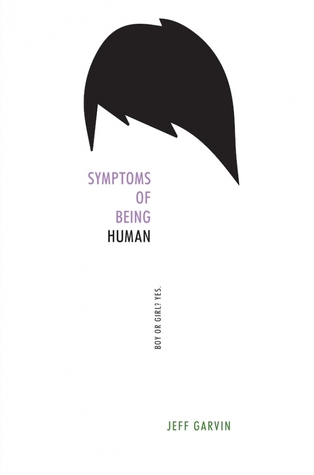 Symptoms of Being Human
by Jeff Garvin
Genre: Young Adult/Contemporary/LGBTQIA+
Format: Hardcover
Publisher: Balzer + Bray
About Symptoms of Being Human (via Goodreads):
The first thing you're going to want to know about me is: Am I a boy, or am I a girl?

Riley Cavanaugh is many things: Punk rock. Snarky. Rebellious. And gender fluid. Some days Riley identifies as a boy, and others as a girl. The thing is…Riley isn't exactly out yet. And between starting a new school and having a congressman father running for reelection in uber-conservative Orange County, the pressure—media and otherwise—is building up in Riley's so-called "normal" life.

On the advice of a therapist, Riley starts an anonymous blog to vent those pent-up feelings and tell the truth of what it's REALLY like to be a gender fluid teenager. But just as Riley's starting to settle in at school—even developing feelings for a mysterious outcast—the blog goes viral, and an unnamed commenter discovers Riley's real identity, threatening exposure. Riley must make a choice: walk away from what the blog has created—a lifeline, new friends, a cause to believe in—or stand up, come out, and risk everything.
Symptoms of Being Human
was like nothing I'd ever read before, but I am so glad I picked it up. It was such an eye-opening and heart-shattering story; it really exposed me to things I knew next to nothing about before. I knew there can be a lot of unnecessary hate toward the LGBTQIA+ community, but I never truly realized the horrors that many of them have to face until I read this book. And it's devastating.
Riley's story was inspirational. Even though I can't truly fathom the scope of what Riley goes through, it was amazing seeing Riley grow and flourish as a character, as well as work up the nerve to finally come out (even if the circumstances weren't the best).
I also appreciated how even though there was so much hate, there was so so so so so much more love. Riley's identity may have shaken the worlds of those closest to Riley, but Riley also had so much support, not only online, but also in Riley's everyday life. There was still plenty of confusion and misunderstanding, but there was still an abundance of acceptance nonetheless. Baby steps in the right direction.
I myself still have a lot to learn about the LGBTQIA+ community, but reading in-depth about the horrors Riley (and others like Riley) had to face caused me to be a complete emotional wreck. It was absolutely terrifying and awful. Nobody, and I truly mean NOBODY, should have to deal with these horrifying, mind-numbingly awful things. Every person is still a human being, and each and every person deserves to be treated that way.
Symptoms of Being Human
was an extremely important story that needed to be told. I knew I wanted to read it the minute I heard about it, and it did not disappoint. It was such an informative and heart-warming (as well as heart-wrenching) book, and I highly recommend people read it.
My rating: 4 stars