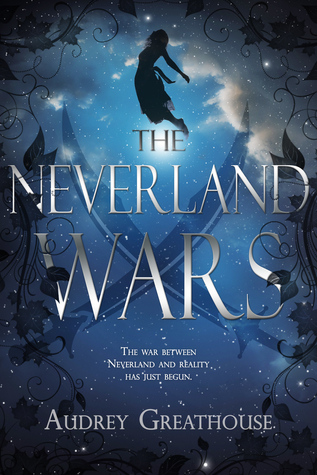 The Neverland Wars by Audrey Greathouse
Genre: Young Adult/Fantasy/Retelling
Page Length: 302 pages
Format: eARC provided by author
Publication Date: May 9, 2016
Publisher: Clean Teen Publishing
I received a review copy in exchange for an honest review.
About The Neverland Wars (via Goodreads):
Magic can do a lot—give you flight, show you mermaids, help you taste the stars, and… solve the budget crisis? That's what the grown-ups will do with it if they ever make it to Neverland to steal its magic and bring their children home.
However, Gwen doesn't know this. She's just a sixteen-year-old girl with a place on the debate team and a powerful crush on Jay, the soon-to-be homecoming king. She doesn't know her little sister could actually run away with Peter Pan, or that she might have to chase after her to bring her home safe. Gwen will find out though—and when she does, she'll discover she's in the middle of a looming war between Neverland and reality.
She'll be out of place as a teenager in Neverland, but she won't be the only one. Peter Pan's constant treks back to the mainland have slowly aged him into adolescence as well. Soon, Gwen will have to decide whether she's going to join impish, playful Peter in his fight for eternal youth… or if she's going to scramble back to reality in time for the homecoming dance.
I wanted to like this book. I really did. But I just couldn't. I'd been dying to finally read a Peter Pan retelling, and I really thought this particular concept sounded like a unique twist to the original story, but I'm sad to say I just couldn't get into it.
My favorite part definitely had to be the interaction between Peter, Gwen, and the mermaids in the lagoon. I love it when mermaids are portrayed on the more sinister side (like sirens) rather than innocent and naive creatures (like the ones in The Little Mermaid, as much as I do enjoy that film/story), and Greathouse did just that. The mermaids were haunting, intriguing, and not exactly evil, but they definitely had their own agendas.
Other than the mermaids, though, I thought the characters were pretty bland. At first, I thought I would be able to
connect
to Gwen, but I just couldn't. She seemed to lack so much depth, and the only thing I could really connect with was her struggle with growing up. And that concept was pretty much defenestrated when she quite literally threw herself out the window and flew off to Neverland with Peter Pan.
I'll admit that the secondary characters had a ton of potential, but they play such a minor role that I didn't really get the chance to appreciate them as
characters
. I wanted to learn more about the lost children's stories, learn about where they came from and why they were there. And maybe I could have gotten that if I had continued reading, but based on what little knowledge I learned from the many chapters already in Neverland, I don't know if that actually was going to happen.
Also, I read almost half the book and I feel like there was no conflict or action whatsoever. I know there's the looming "war" threat from the adults in the real world, but honestly I didn't see much reaction or preparation for battle or anything like that. There wasn't much plot in my opinion, other than the kids stomping around, eating, and telling stories.
All in all,
The Neverland Wars
had an interesting concept, but fell short of my expectations.