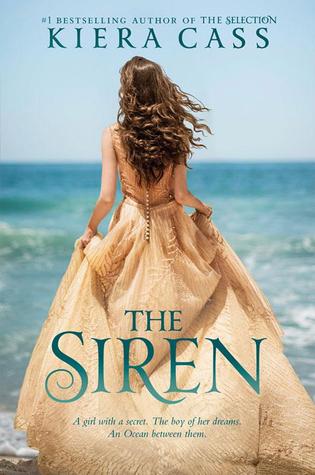 The Siren by Kiera Cass
Genre: Young Adult/Fantasy
Page Length: 327 pages
Format: Hardcover
Publisher: HarperTeen
About The Siren (via Goodreads):
Love is a risk worth taking.
Years ago, Kahlen was rescued from drowning by the Ocean. To repay her debt, she has served as a Siren ever since, using her voice to lure countless strangers to their deaths. Though a single word from Kahlen can kill, she can't resist spending her days on land, watching ordinary people and longing for the day when she will be able to speak and laugh and live freely among them again.
Kahlen is resigned to finishing her sentence in solitude…until she meets Akinli. Handsome, caring, and kind, Akinli is everything Kahlen ever dreamed of. And though she can't talk to him, they soon forge a connection neither of them can deny…and Kahlen doesn't want to.
Falling in love with a human breaks all the Ocean's rules, and if the Ocean discovers Kahlen's feelings, she'll be forced to leave Akinli for good. But for the first time in a lifetime of following the rules, Kahlen is determined to follow her heart.
The Siren
was a fun summer read. The premise was interesting, and the execution was decent. However, the storyline was predictable, and the characters were not very fleshed out. I saw next to no character development, and the love was way too instantaneous. A
major case of instalove, if you will. And I hate instalove.
Kahlen wasn't a bad main character, but she was far from my favorite. Her relationships were decent with everyone, but it irked me that she spent decades with the Ocean and her "sisters", and chose to mope over a boy she'd only known for a minuscule fraction of that time.
To return to the topic of instalove, their interactions were too brief. There were so few scenes actually had Kahlen and Akinli together, so it was hard for me to root for them when there was so little to root for. I couldn't get a clear sense of their relationship, so I had no motivation to cheer them on when so many other people were hurt in their wake.
The secondary characters were tried-and-true friends to Kahlen and to each other, but I would have liked it if they had a bigger role. The scenes they were in seemed to go by too quickly, and they seemed to play such a tiny role in the story despite their long-standing relationship with Kahlen and the sisterhood.
In addition, I would have loved to learn more about the Ocean. She was a very unique "character" and although she irritated me quite frequently, she was so intriguing and kind of fragile, in a sense. I wish I knew more of the mythology/backstory behind her and the sirens.
All in all, The Siren was a decent and quick read, but there was a lot left to be desired.