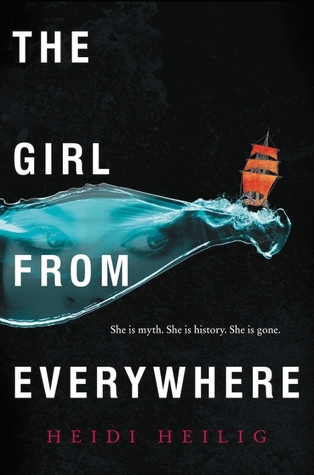 The Girl from Everywhere by Heidi Heilig
Series: The Girl from Everywhere #1
Genre: Young Adult/Historical Fiction/Fantasy/Time Travel
Page Length: 464 pages
Format: Hardcover
Publisher: Greenwillow Books
About The Girl from Everywhere (via Goodreads):
Nix has spent her entire life aboard her father's ship, sailing across the centuries, across the world, across myth and imagination.
As long as her father has a map for it, he can sail to any time, any place, real or imagined: nineteenth-century China, the land from
One Thousand and One Nights
, a mythic version of Africa. Along the way they have found crewmates and friends, and even a disarming thief who could come to mean much more to Nix.
But the end to it all looms closer every day.
Her father is obsessed with obtaining the one map, 1868 Honolulu, that could take him back to his lost love, Nix's mother. Even though getting it—and going there—could erase Nix's very existence.
For the first time, Nix is entering unknown waters.
She could find herself, find her family, find her own fantastical ability, her own epic love.
The Girl from Everywhere was one of my most anticipated reads for this year, and while I was absolutely obsessed with the story and the characters (and the family dynamics!), the book didn't meet all my expectations.
The plot lulled a few times, but I overall loved the story. The different voyages through time that the crew went on were so entrancing and fascinating—I was completely captivated by their visits to historical places both real and mythical, and I loved the concept of the magic of Navigation. However, when the process was initially explained, and they went through their first Navigation in the story, I had absolutely no clue what was going on. I knew the vague idea of what they were doing, but Heilig tried to explain it in more detail and the explanation was lost to me. Later, I eventually caught on but for a while I was still pondering what exactly had happened in that scene. Maybe that's just me being dense, but it still bothers me that I didn't know what was going on.
Thinking about it now, I barely even remember what Nix was like. I didn't mind reading from her perspective, and I did understand her feelings and felt bad for her in regard to her relationship with her father, but something about her didn't completely seem real. It's hard to explain, but I didn't feel as connected to her as I hoped. I feel like her character was more rooted in her relationship with other people than with herself. And not to go off on a tangent, but I've written a whole essay on this before and it's important to balance one's relationship with oneself with one's relationship with his or her community. And I know that Nix was struggling with this balance, as she needed to decide whether she wants to go off on her own or stay with the people she knows and loves, but at the same time I couldn't actually imagine her making that decision since she was so sheltered and didn't really know anything else. I mean, I suppose it's hard because she's cooped up on a boat most of the time, but it irritated me that she didn't stand up for herself as much as she could have. And even when she did, she was usually rash and insensible. Now don't get me wrong, as much as I've been complaining, I didn't hate Nix. I just wish she'd been written better.
However, I loved the rest of the cast of characters. They were so diverse and unique, and they really helped guide Nix throughout the story, even when she didn't deserve the help or love she was getting. They were all flawed and in many ways broken, but that just made them all the more real. I felt connected to and intrigued by them more than I could have ever been by Nix. They had pasts, stories untold that I was dying to learn more about. Nix, not that it was her fault, only had the ship, the mystery of her mother, the pressure of her father, and her wish to be independent dragging her through her life.
I know the story wasn't meant to be focused heavily on the romance, but I wasn't exactly impressed with the little romance the story did have. Or at least the parts with Blake (Kash is a completely different story *swoons*). There was so so so much instalove between Nix and Blake, and I hated it so much. I understand why they both may have been intrigued by each other, but just NO. I mean, I might be biased since I'm Team Kashmir, but they just seemed so wrong together. Their whirlwind of a romance was new and exciting for them both, but I just cringed the whole way through.
Blake was a helpful character, but he just doesn't understand Nix in the way that Kash does. And I feel like he barely got to know her, whereas Kash has known Nix forever. I loved the witty banter between Kash and Nix, and his loyalty to her through thick and thin. Even though they both make mistakes, Kash did have Nix's best interest at heart, and both characters complement each other so well.
Now for family relations. I'm really glad that there was a family, since so often these days in young adult novels, there aren't. Or they're bad. And I know Slate is definitely not the greatest parent out there, and he was quite selfish and overbearing and demanding, he had good intentions. His character was fascinating, and I wish I knew more about him, pre-Nix. My main problem with him, however, was that although he discovered a lot on his journeys, it took him way too long to realize some of the most important things. And when he finally did, his problems seem to be resolved much too fast.
The pacing overall was a bit off, and the character development and world-building was a bit rickety, but overall the concept and storyline were fabulous. Even though I talked mostly about the flaws, the story was an extremely enjoyable and quick read with an engaging and heartfelt storyline.