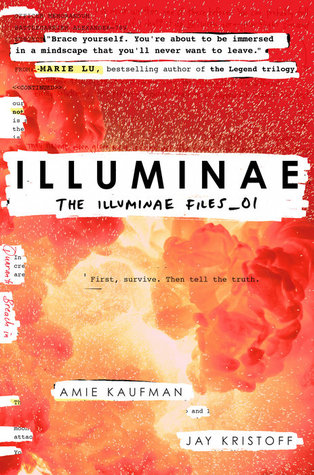 Illuminae by Amie Kaufman and Jay Kristoff
Series: The Illuminae Files #1
Genre: Young Adult/Sci-Fi
Page Length: 608 pages
Format: ARC (advanced reader's copy)
Publication Date: October 20, 2015
Publisher: Knopf Books for Young Readers
Source: Hardcover ARC received at BookCon 2015
Although I received a free copy of this book, my opinion of it is completely my own.
Where do I even begin with the brilliance that is
Illuminae
? I honestly am breathless after reading it, so please bear with me. I'll try my best to put my feelings into words.
Illuminae by Amie Kaufman and Jay Kristoff is everything I could ever want in a book. It's use of IMs, surveillance footage, PA announcements, blueprints and so much more was a unique and exciting way to tell a story. I was wary at first because I wasn't sure how one could convey so much through those methods, but I was blown out of my mind by the artistry in which Kaufman and Kristoff pulled it off. I felt every emotion on the spectrum: sadness, anger, disbelief, joy, amusement, and even fear. I was eagerly anticipating (and sometimes dreading, in the best way possible) what new emotion the next page would evoke.
The story was told in a way that each piece of data collected could be read relatively quickly. Although everything connected fluidly, it was nice that each document was still relatively solitary, so there was always a perfect stopping point. At the same time, however, it was woven so beautifully together that I didn't want to stop. Since each piece was pretty short, I was

lured to

read into the wee hours of the night. A voice in my head was

constantly

telling me something along the lines of, "oh this next section is only 5 more pages, surely you have the time for just one more IM conversation"

…

which thus led me to read 200 more pages in one sitting. Oops.
I loved Kady and Ezra as characters. Actually, I loved them all. Except for one that made me want to hide under the covers and never come out. But I won't go into detail about that little devil

…

Also, t

he pop culture references that many characters made were amazing additions to the story. Even though they did not play major roles in the plot, those snippets truly lightened the mood, even in the direst of situations.



Kady and Ezra were both such strong and admirable characters who loved from the bottom of their hearts, and were willing to risk everything (and do incredibly stupid and rash things) for the people and things they cared about most. It was interesting seeing their interactions and actions solely via message, footage, etc., but it was surprisingly still clear and obvious how much they cared about each other. I continued to cheer them on throughout the novel, throughout every up and down. They went through so much, but still tried their best to be

optimistic

nonetheless.
AIDAN, the fleet's AI (artificial intelligence), was a fascinating character in the book. I don't want to go into too much detail (because I don't want to spoil anything), but it was so difficult to understand him. At the same time, however, I couldn't help but feel a tad bit sympathetic once I learned
more about him. I have always been afraid of the idea of artificial intelligence, and for a while I was afraid of what AIDAN was capable of, but he slowly started growing on me.
What surprised me most was definitely how many feels I had while reading the book. Kaufman and Kristoff made me go insane from all the different feels.
All the characters were so realistic and I felt like I could relate to all of them in so many ways. The book was devastating and brilliant and glorious and hilarious and everything all at once, and I loved every minute of it, even though t
he minute something would get better, I'd only be punched in the gut again. Sort of like this:
I

am not usually someone who reads science fiction, but I was completely sucked into the world of
Illuminae.
I was fascinated by the intricacies of the spacecrafts, AIDAN, and all the different documents used to tell the story. The artwork and designs that were in the book were truly superb, and I felt like I could visualize everything that was happening vividly.
Illuminae
was an absolute masterpiece. It was such a pleasure to read an advanced copy of it, and it is definitely one of my favorite books of the year. I was a bit worried about reading such a long book, but it captured my attention the whole time and went by so quickly that I ultimately didn't want it to end.
Also, WHY CANT THE SECOND BOOK BE OUT ALREADY?!? Of course I'm saying that while the first book still hasn't even been released to the public, but I don't know if I can wait that long. But I must. I will be patient. I WILL. I. WILL. BE. PATIENT. Asdfghjkl; *takes deep breath* I apologize for my little [glitch], but it was just absolutely amazing and I need the next book so badly… GO READ ILLUMINAE. IT IS ABSOLUTELY BRILLIANT.
My Rating:
✪✪✪
✪
✪
About Illuminae (via Goodreads):


This morning, Kady thought breaking up with Ezra was the hardest thing she'd have to do.
This afternoon, her planet was invaded.
The year is 2575, and two rival megacorporations are at war over a planet that's little more than an ice-covered speck at the edge of the universe. Too bad nobody thought to warn the people living on it. With enemy fire raining down on them, Kady and Ezra—who are barely even talking to each other—are forced to fight their way onto an evacuating fleet, with an enemy warship in hot pursuit.
But their problems are just getting started. A deadly plague has broken out and is mutating, with terrifying results; the fleet's AI, which should be protecting them, may actually be their enemy; and nobody in charge will say what's really going on. As Kady hacks into a tangled web of data to find the truth, it's clear only one person can help her bring it all to light: the ex-boyfriend she
swore
she'd never speak to again.
Told through a fascinating dossier of hacked documents—including emails, schematics, military files, IMs, medical reports, interviews, and more—
Illuminae
is the first book in a heart-stopping, high-octane trilogy about lives interrupted, the price of truth, and the courage of everyday heroes.