Waiting on Wednesday is a weekly event, hosted by
Breaking the Spine
, that spotlights upcoming releases that you are eagerly anticipating.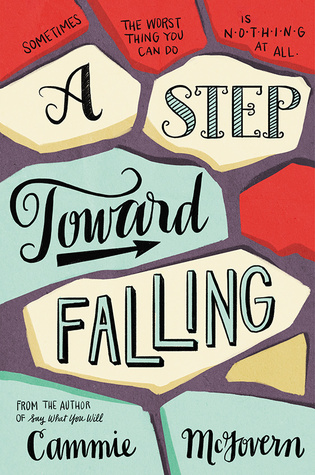 A Step Toward Falling by Cammie McGovern
Genre: Young Adult/Contemporary
Page Length: 368 pages
Publisher: HarperTeen
Publication Date: October 6, 2015
Via Goodreads:
Sometimes one mistake can change everything.
Emily doesn't know why she froze. Or why Lucas did too. Afterward, she thought of different ways to rationalize it. But the truth is, they could have helped Belinda, and they didn't. It's a mistake they'll both have to live with.
Sometimes doing nothing is the only way to cope.
Belinda doesn't want to talk about what happened. Because when she does, it feels like it's happening all over again.
Sometimes good can come from bad.
Emily and Lucas's punishment is community service at a center for people with disabilities. People like Belinda. Soon they feel like maybe they're starting to make a real difference. Like they would be able to do the right thing if they could do that night all over again. Like they could help not only those at the center but also each other.
But when Belinda returns to school, Emily and Lucas have to figure out if they can do anything that will actually help the one person they hurt most.
This book sounds really intriguing. I'm really curious to find out all the details of the event that took place and the mistake that Emily and Lucas made, and am really looking forward to seeing how their relationship with each other and with Belinda develops over the course
of
the book.